Updated as of 10:55 AM on Wednesday, April 17
---
10:36PM (4/16/2019): The Boulder Police Department is passing along information provided by the FBI and Jefferson County Sheriff's Office in reference to 18-year-old Sol Pais, who is considered armed and dangerous.
Last night (4/15/2019) Sol Pais traveled to Colorado and she has made threats against schools. Pais is armed and considered extremely dangerous. Law Enforcement is operating out of an abundance of caution. The threat is not isolated to one school or individual. Federal, State and local law enforcement are working together to keep our community safe.
Members of the public can submit tips by phone or email, using the below contact details.
All media inquiries should be directed to the FBI Denver Headquarters. Media contact is Amy Meyer.
The Jefferson County Sheriff's Office and the FBI Denver Office are both continuing to post updates via their Twitter social media accounts.
---
Update: 12:25AM (4/17/2019): As of 12:15AM, Boulder Valley School District has announced that all schools at BVSD will be closed, today, Wednesday, April 17th, due to a security threat against schools in our area. All before & after-schoolactivities are cancelled.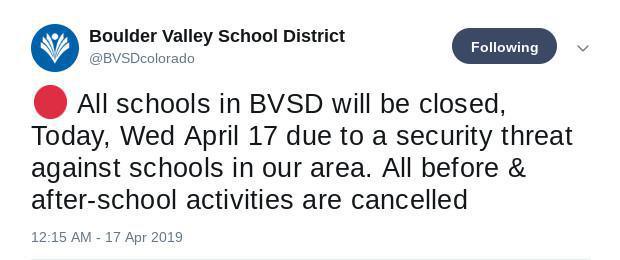 Update 10:46AM: As of 10:44 AM today the FBI Denver office has released an update and there is no longer a threat to the community and more information to follow. View updates directly via the @FBIDenver Twitter account.