The Boulder Police Department's 2019 Awards Ceremony recognized several citizens and employees for exemplary performance during 2019. Congratulations to all the recipients!
Outstanding Community Member Award
Nettie Skievaski –
For going above and beyond your normal civic responsibility and taking action that most likely saved the life of a stranger.
Dominic Avila –
For your bravery in calling 911 and assisting police officers with their investigation of an in-progress assault. On another occasion you assisted officers with locating a missing juvenile in your neighborhood.
Jim Neville -
Due to your keen perception and care for BVSD students you identified a lost five-year-old student walking in the snow and extremely cold temperatures. You returned her to her school where she was reunited with her mother.
Christopher Reed, Malcolm Fleming –
For your courage in the face of danger on a swift water rescue saving the life of another. July 13, 2019
Unit Citation
Facilities Maintenance:
Ray Medford, Amado Ramirez, Calvin Schilling, Jaymes Tregay, Denise Trujillo, Dave Turner.
For exemplary teamwork, effectiveness, and exceptional service in setting up the PAT to meet the needs of increased hiring processes.
Animal Protection Unit:
Janee Boswell, Taylor Barnes, Jonathan Kidd, Christopher Reich, Andreas Reimann, Rachel Smith, Allison Jedamus
For your consistent exemplary contributions to the mission of the Boulder Police Department.
Police Chief's Certificate of Commendation
Detective Edmund Burke, BCSO Detective Cody Sears
For demonstrating exceptional initiative and teamwork investigating a series of vehicle trespasses in an exceptional manner.
Dispatcher Heather Nelson
Your initiative, resolve and follow through brought attention to several issues, and your actions likely saved others from having to endure such extensive legwork in the future.
Award for Excellence
Sergeant Michael Heath:
For over three years of service at a level of excellence supervising the Boulder Police Department Neighborhood Impact Team.
Dispatch Supervisor Bradley Riggin:
For your continued service at a level of excellence as a Dispatch Supervisor.
STAR (Superior Tactics and Response) Award
Officer Gabriele Frasier:
For your exceptional tactics, decision-making, and skill, in successfully disarming a suicidal 13-year-old boy holding a knife.
Medal for Lifesaving
Officer Nadia Klocke:
For your quick and skillful response in applying an AED to save the life of a heart attack patient. March 30, 2019
Officer Ryan Austin, Officer Nathan Bretz:
For your quick and decisive response administering CPR to a patient with no pulse and saving a young man's life. April 25, 2019
Officer Jeff Arrigo:
For your courage in the face of danger on a swift water rescue saving the life of another. July 13, 2019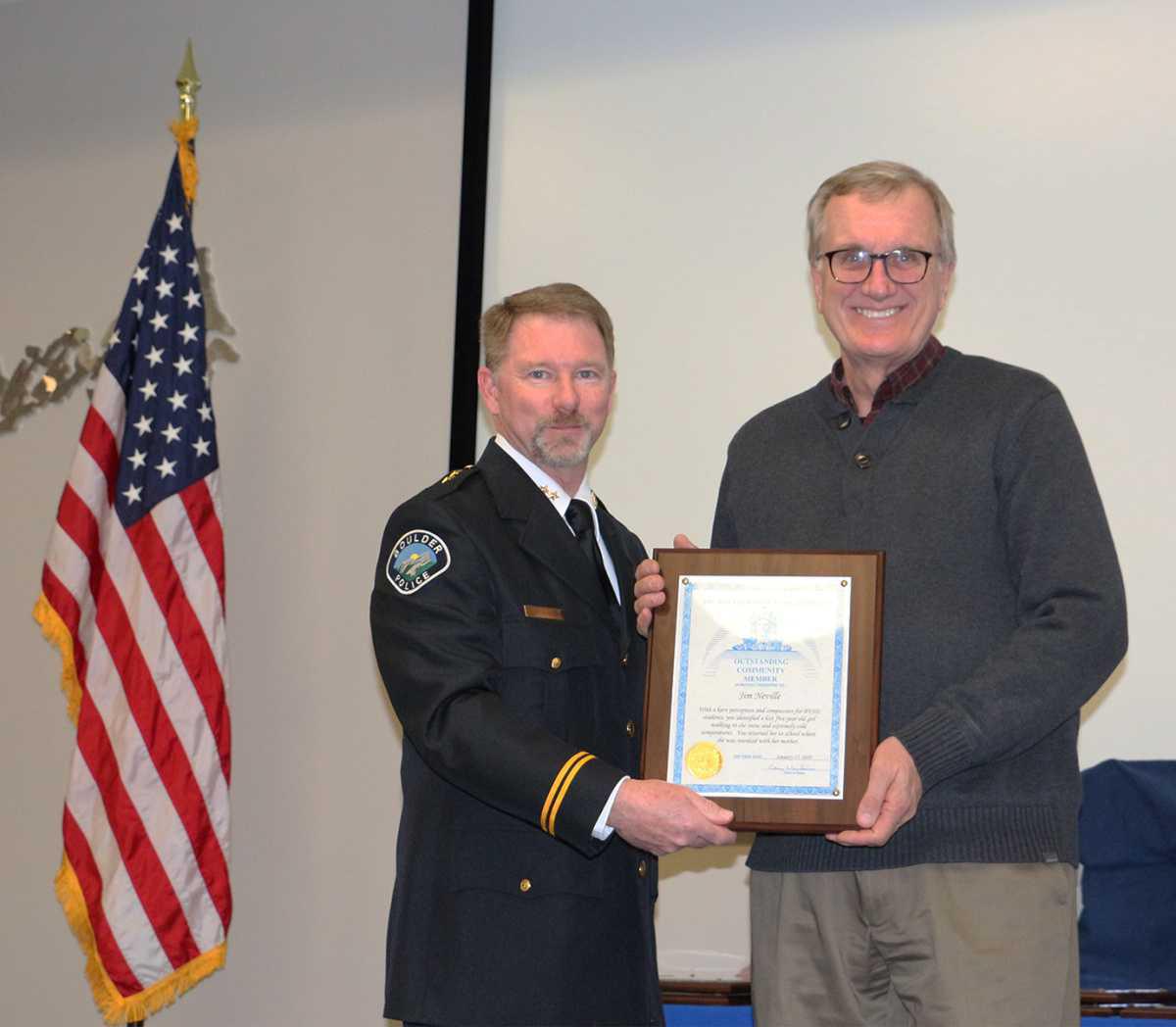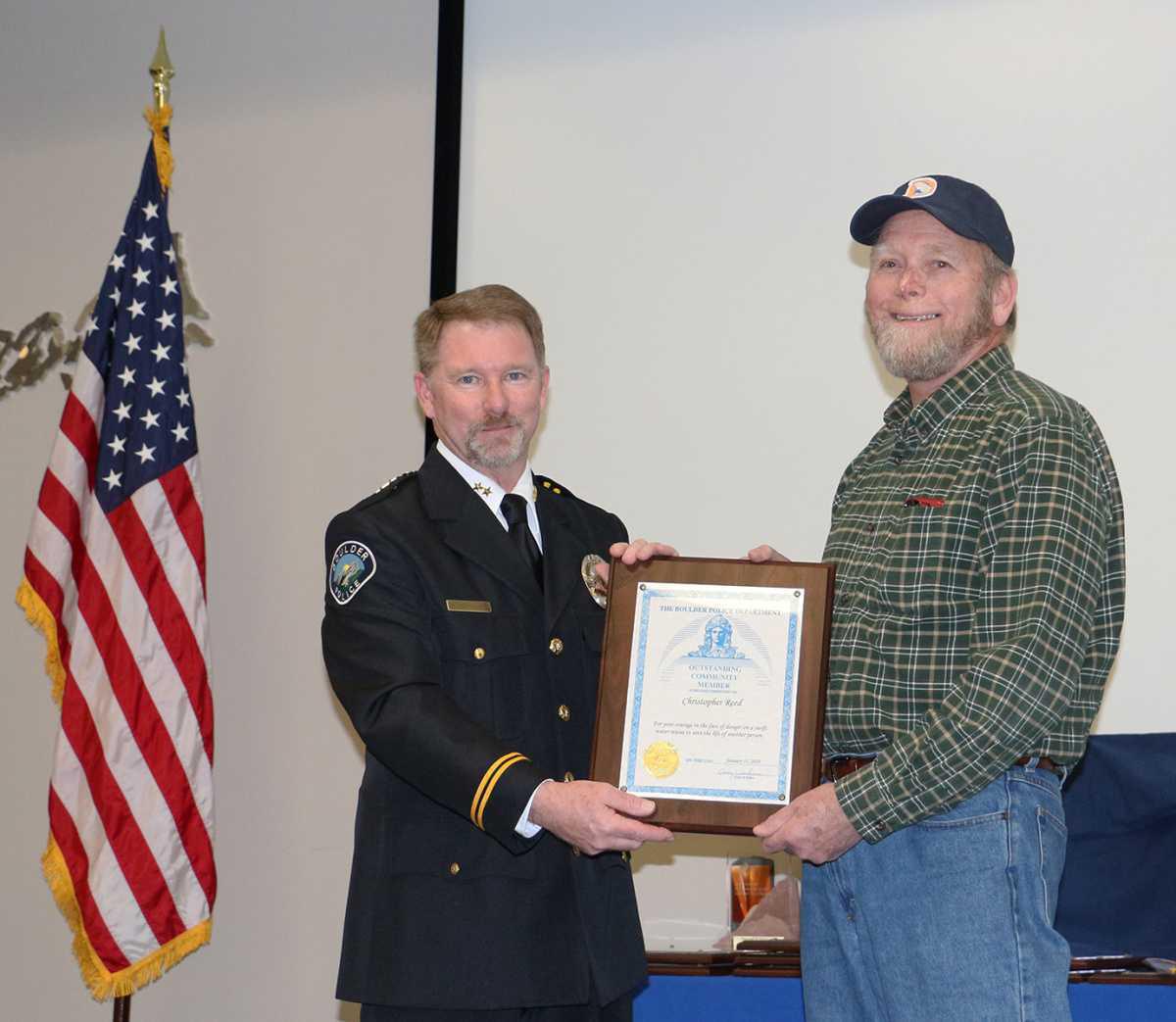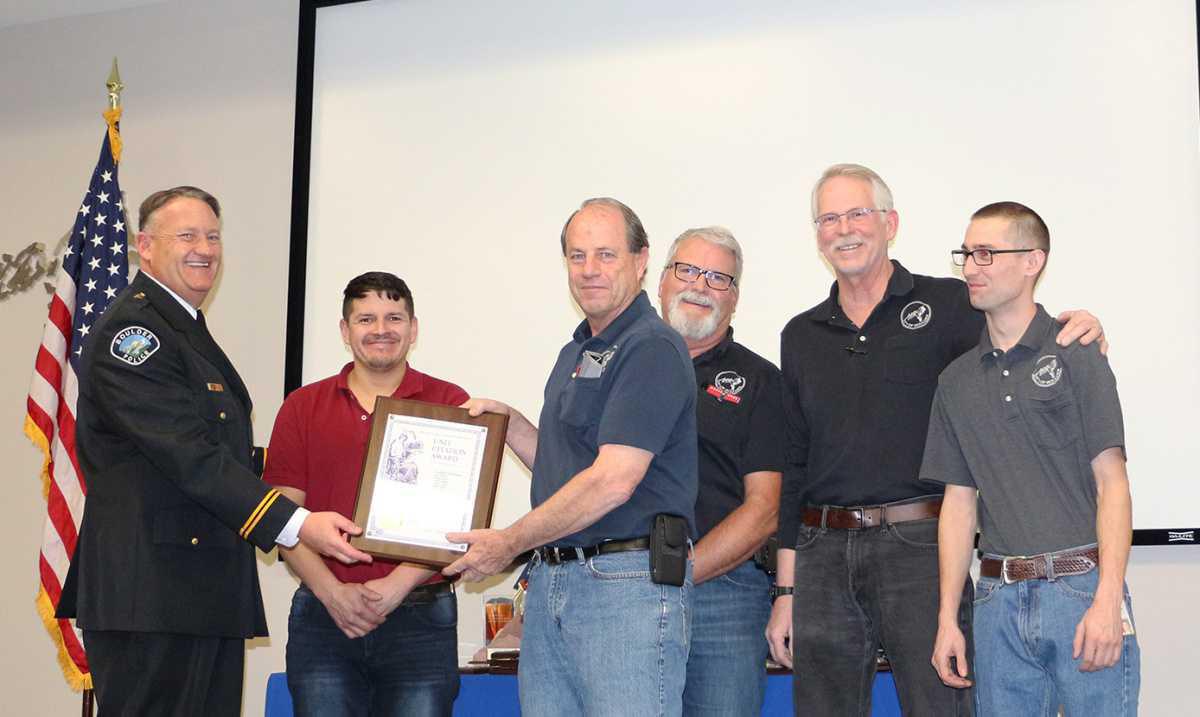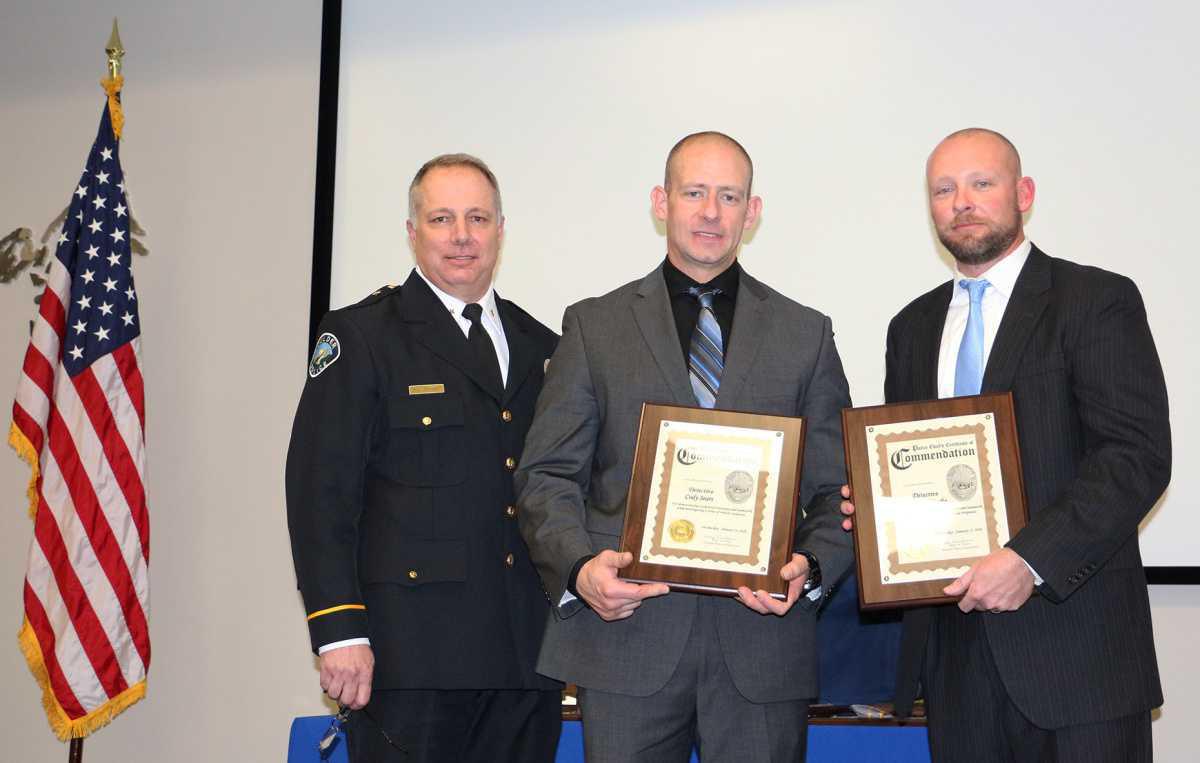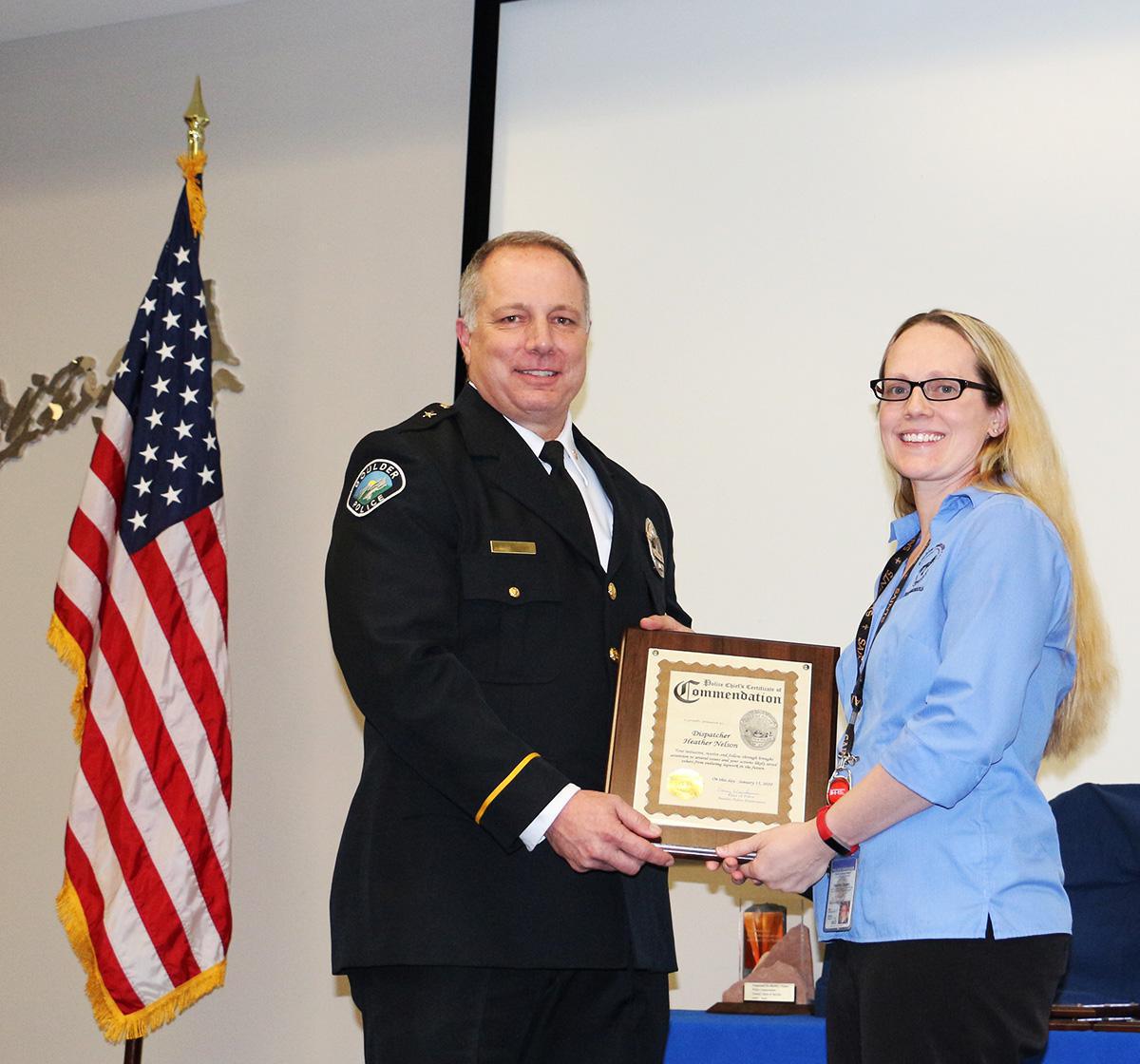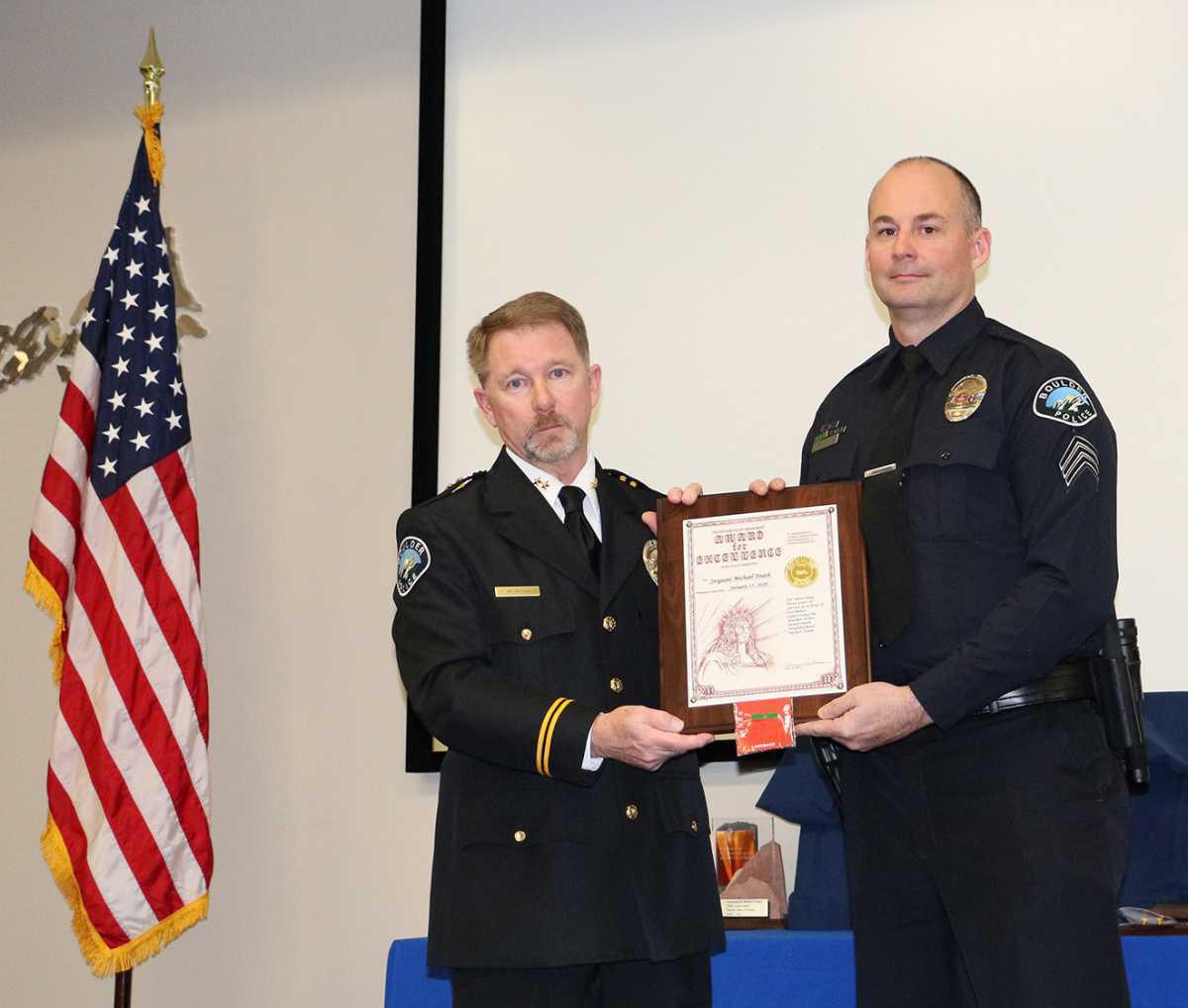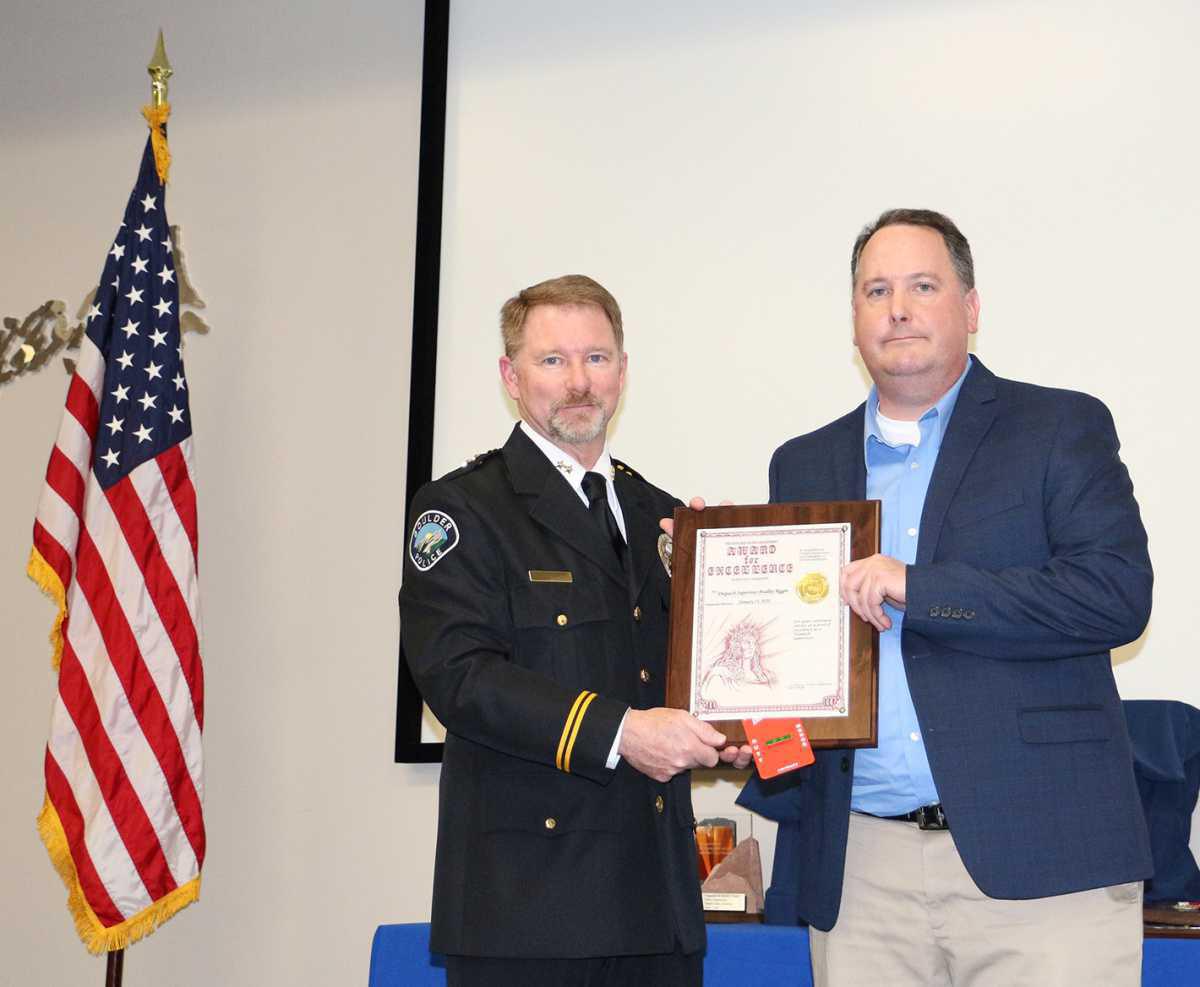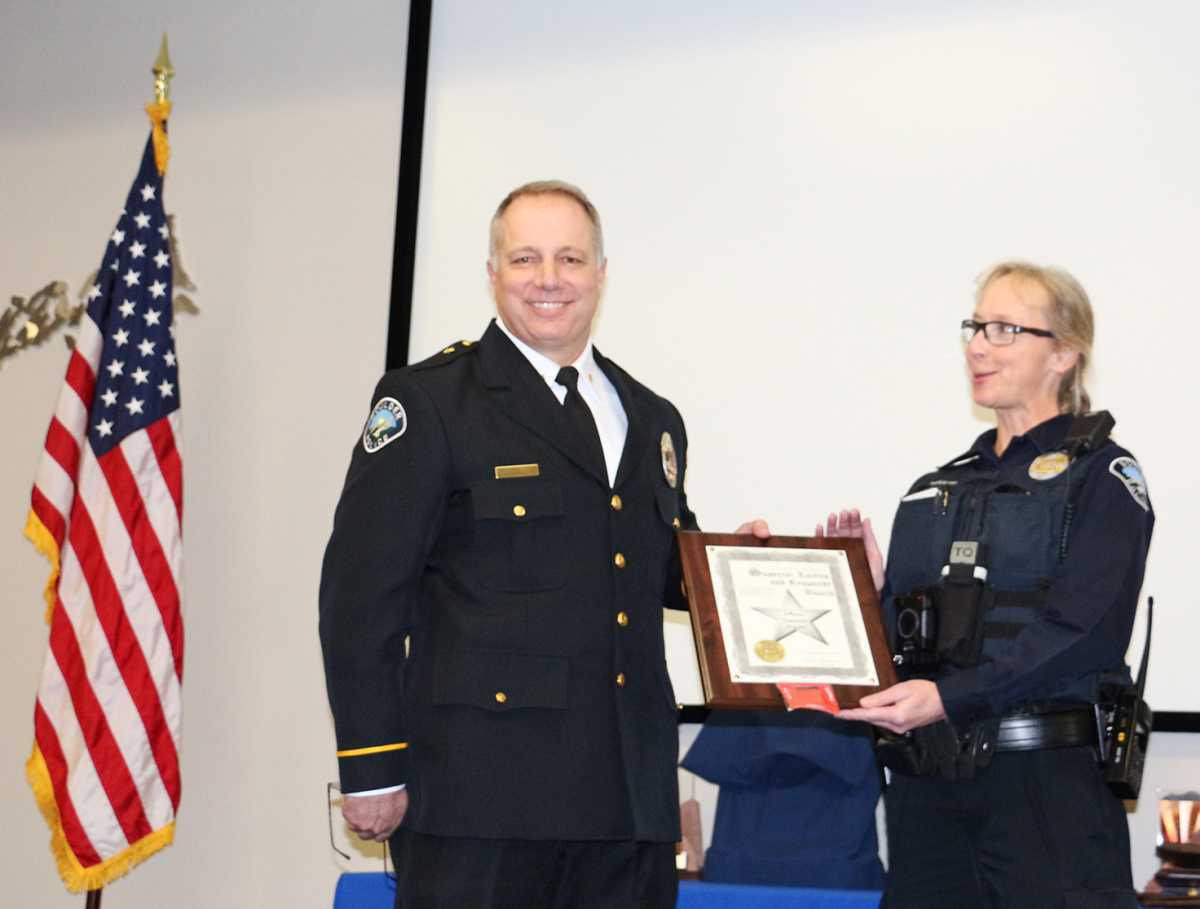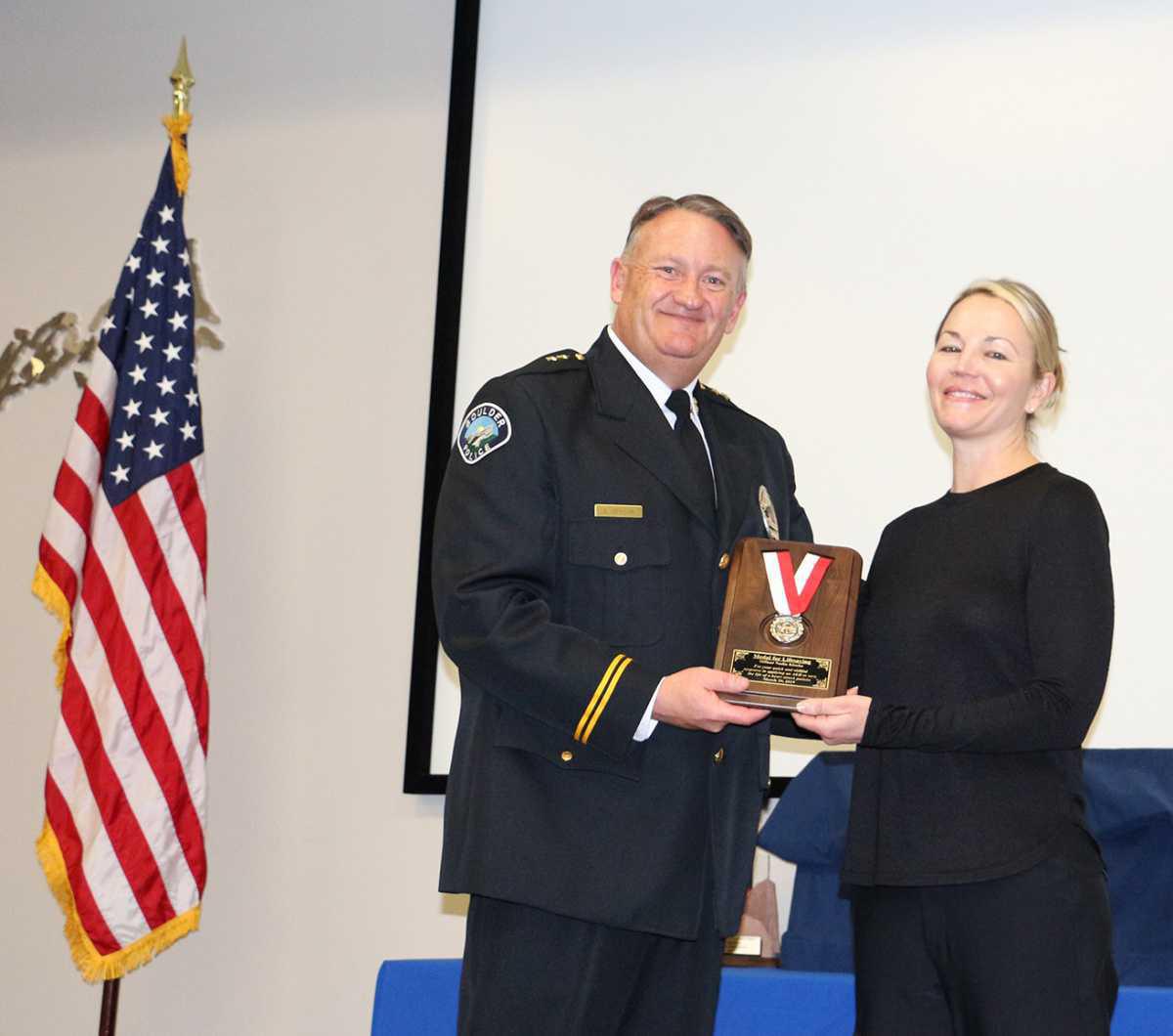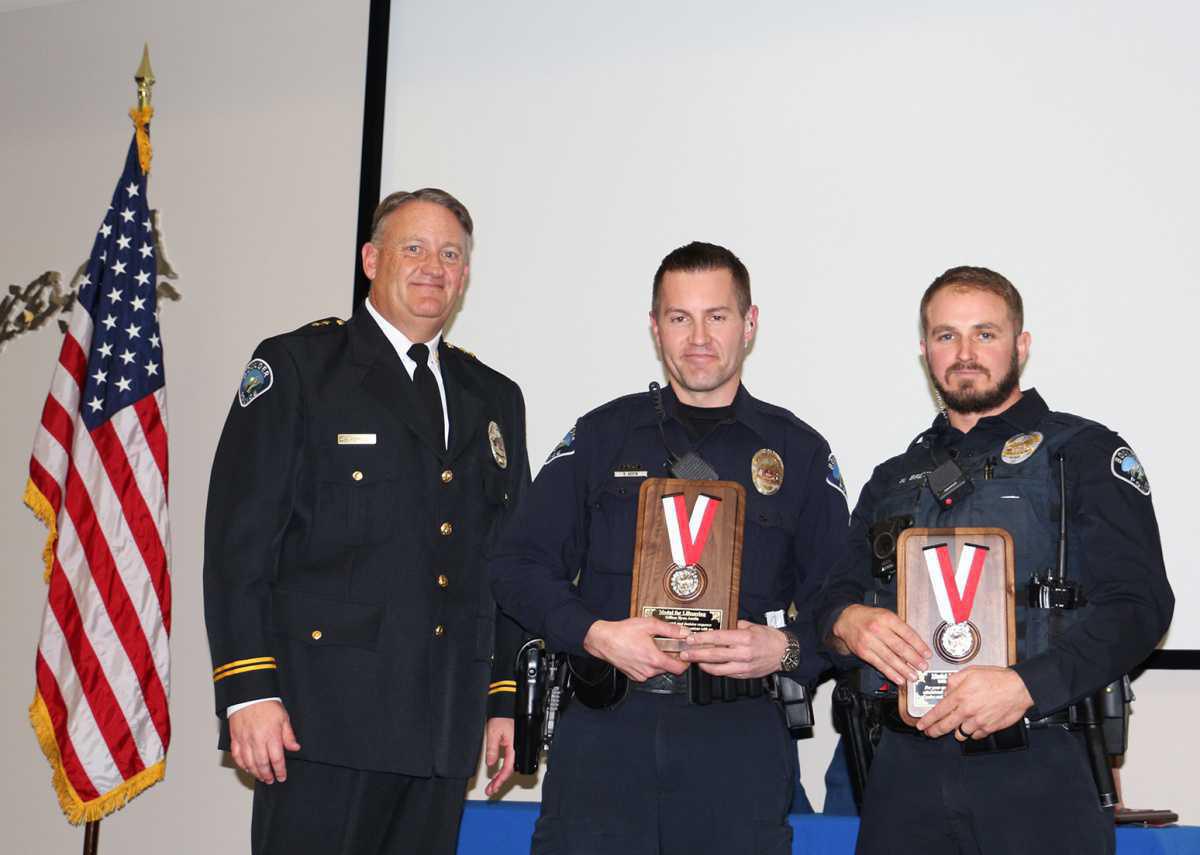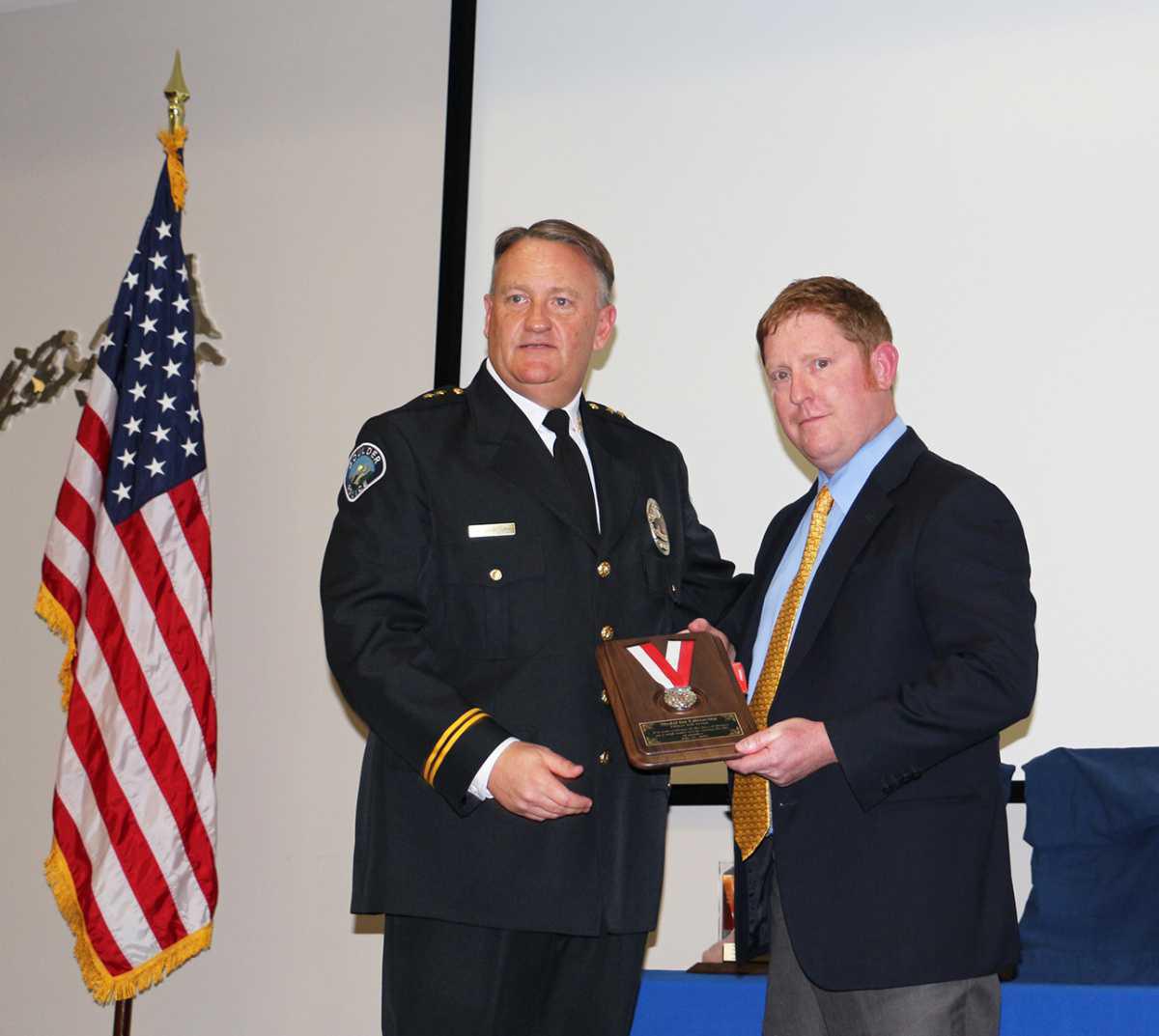 2019 Award Certificates