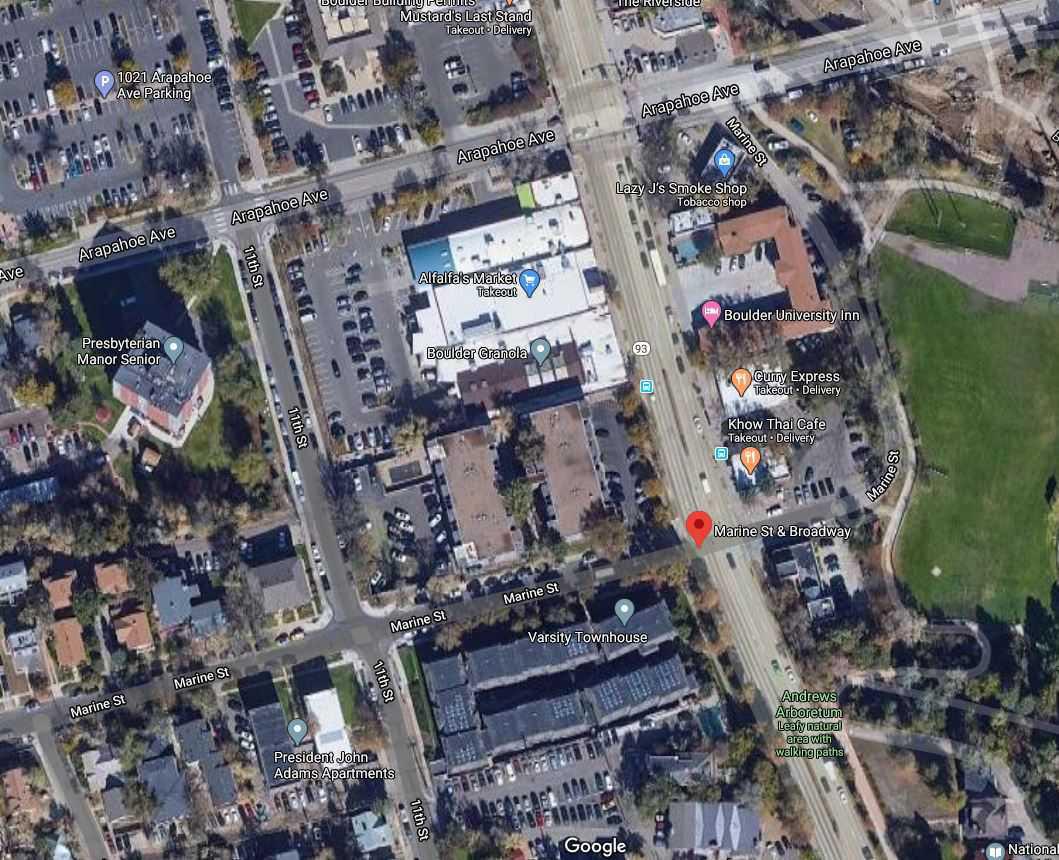 Officers with the Boulder Police Department are currently responding to the area of Broadway and Marine Street in reference to multiple reports of a male with a long knife or machete. The initial call was received by the Boulder Police Department Communication Center at approximately 10:07AM. The caller stated that the male was yelling at cars and "swinging the knife at cars", in the area of Broadway and Arapahoe Avenue. The initial caller said the suspect was last seen walking southbound along Broadway.
As officers began responding to the area, the communication center received additional information that the suspect was now climbing on the balconies of apartments in the area of Broadway and Marine Street.
The male is described as white male, with long brown hair. He was last seen wearing "bright" colored clothing and a hat with "bunny ears".
---
Update @ 11:25AM: Shortly after arriving in the area, officers were able to contact the suspect who had a large machete on his person. Upon contacting the male, officers gave verbal commands to the male who was subsequently placed in handcuffs and the machete removed from his possession. The community members who contacted police were contacted and officers also spoke to the male suspect. The suspect indicated he was trying to scare people out of the apartments so that police could make arrests. The suspect showed indications that he may suffer from mental health issues and cooperated fully with police.
The machete was seized from the suspect and he was issued a issued a summons after being released from custody on scene. Officers also referred the suspect to our EDGE program for resources in reference to possible mental health concerns.
The Early Diversion, Get Engaged (EDGE) co-responder program is "a law enforcement and behavioral health co-response program that aims to prevent unnecessary incarceration and hospitalization of individuals with a behavioral health issue by diverting the individual into treatment." – Mental Health Partners